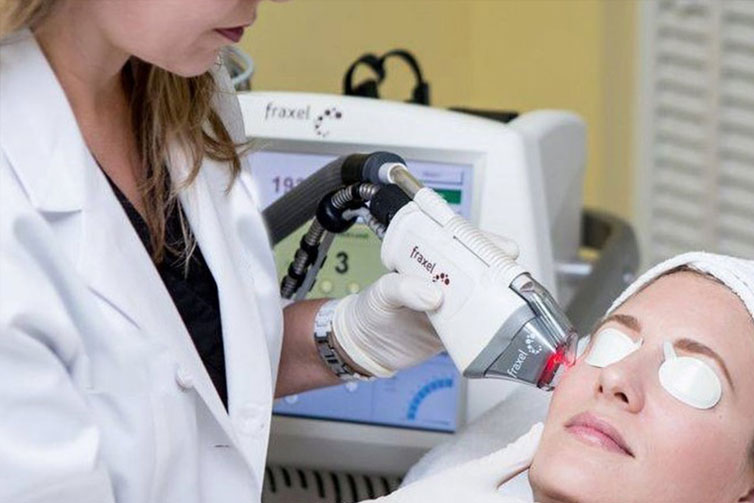 Fraxel Laser Skin Resurfacing is an amazing laser-treatment that effectively changes the texture of all skin types and colors.

Fraxel Laser Skin Resurfacing is an FDA-approved fractional laser technology to help restore your skin to its original, perfect texture and achieves smoother, fresher, younger looking skin, improved tone and texture, smaller pores, erasing of unwanted brown spots, acne scars, and surgical scars, and reduces fine line lines and wrinkles.

What is Fraxel Skin Resurfacing?

Explained in the simplest terms, Fraxel laser skin resurfacing tricks your skin into creating new skin to replace the damaged, or targeted areas, resulting in natural skin rejuvenation that takes years off your appearance.

Fraxel skin resurfacing is a safe, non-invasive laser skin treatment that removes years from your appearance without the risks, side effects or prolonged downtime of other procedures.

What does Fraxel treat?
Fraxel is FDA approved to treat many skin ailments, including:

-Acne Scars
-Scars: surgical, post-operative, accidental, etc.
-Stretch-marks
-Large Pores
-Wrinkles
-Age-spots or sun-spots
-Discoloration and uneven pigmentation
-Fine lines around the eyes (Periorbital Wrinkles)
-Irregular skin texture

Whether you have mild, moderate, or severe skin damage, or you just want prevention and maintenance, there is a Fraxel laser-resurfacing treatment that can be done for you. Smoother, fresher, healthier skin with improved tone, texture and pore size, along with the softening of wrinkles and lines will be your final result.